Order
We have exchanged emails or talked on the phone; you have all the information you need and you want to place an order.
We can take your order either by email or by phone.
We draw up your purchase order which you sign and send back to us, along with a deposit in the form of a cheque or bank transfer.
Before we ship the furniture, we will ask you to pay the balance; if this is by cheque, this will only be banked after you have received your furniture.
If we have the furniture in stock and you want quick delivery, we ask you to send us 2 cheques. The one for the deposit will be banked as soon as it is received, the other for the balance will only be banked once you have received your furniture. If you make a bank transfer, we ask you to transfer the whole of your payment to us.
Transport
So that we can offer really competitive transport costs, we work all over Europe using a courier service.
When your furniture is ready, we contact you to fix a delivery date.
The truck driver brings the furniture in front of your home; he has a pallet truck which cannot go up steps or go across gravel.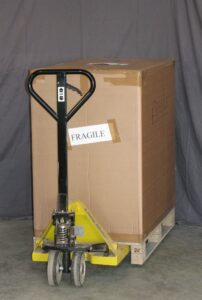 Furnitures are delivered fully assembled, packaged and placed on a pallet.
If it is necessary to climb stairs, or to take it in a room with a narrow passage, or if there is gravel… it is very easy to lighten the furniture: an attached note is in one of the unit's drawers (* see "recommendations for use").
Click to see the arrival of a studio furniture in video
If necessary, the studio units can be taken apart completely.
If you wish to lighten even more the furniture (because you need to move in a narrow place or to facilitate its handling), you can remove the drawers modules by removing the screws fixing each of them:
– 6 torx screws T15 attach the small modules to the structure: remove the drawers, remove the screws, then slide the drawers module forward keeping it in place so that it does not fall in the middle of the structure.
– 2 screws attach the large module to the lower part: proceed in the same way.
Please note that it is preferable to be two, the large drawers module (n°3) is heavy.
Remember to reattach the drawers modules by all the screws, they have an important role in the stability of the structure.
Delivery procedure
 
1.   We receive your payment
2.    We agree a preferred delivery date
3.    Departure of the furniture by courier                     
4.    We communicate to you, by e-mail or phone, the phone number of the platform that delivers you and the number of your package
5.    You agree to an appointment with the deliveryman for the reception of your furniture
6.    You unpack your unit and, without any further ado, you set to work on your new creations!