Scrapbook Studio Unit / Scrap furniture
The Scrapbook Studio Unit comprises 3 worktop shelves and a range of modular drawers.
- The upper shelf slides forwards or backwards; it gives you a spacious work surface when you are sitting on a high stool. It can tilt into 6 different positions for particular techniques.
- The lower shelf also slides forwards or backwards. It is desk height. You can work at it, put your equipment down on it or use it for drying a work in progress.
- The middle shelf slides sideways, providing a surface for putting down equipment that is handy for both right-handed and left-handed people; it can also be used as a creative space.
The storage units are modular, with 13 to choose from. The "scrapbook" modules with 3 and 6 storage spaces are optional and can be purchased separately.
Just like the other Studio Units, the Scrapbook Studio Unit is fitted with casters with twin rollers and a rubber binding, making the Unit very easy to handle.
Product description
The objective of the Scrapbook Studio Unit is to be user-friendly, as well as being ergonomic and saving space. In fact, when you use all the shelves, it is easy and pleasant to work all together, with friends or family!
Just as with the other studio units, the upper shelf of the Scrapbook Studio Unit can also be doubled in size (see options information sheet).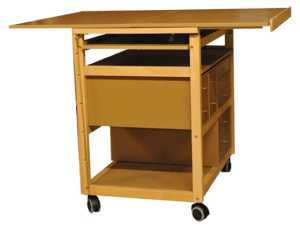 Each module offers drawers of different sizes and depths (see module information sheet) where you can put your scrapbooking equipment: embossing powder, stamps, distress inks, ribbons, buttons, pearls, felts, paint tubes, glue dots, flowers, cardstock, stencils, coluzzle, dymo label stickers, etc.
Not having to remove from the table, at the moment of the meal, felts, scissors, jigs, square, cutter, paper cutter, glue tubes and other embellishments... and your work!
Not having to spend your time getting out the material, grouping and installing it around you...
Having a well-defined creative space at home, what happiness!
Characteristics
Dimensions (cm)
W 100 x D 67 x H 95 or 101
Materials
Furniture's structure and drawers' belt in solid beech. Worktop shelves, modules of drawers and drawers' fronts in MDF
Finish
Acrylic varnish very resistant and insensitive to water.
See other products "Graphics arts / Studio Units "