Established in Normandy since 1995, the Auboi cabinetmaking company now has 6 people on board.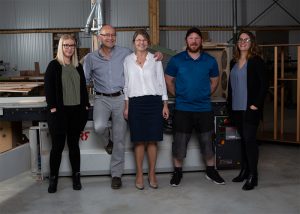 Anne-Marie and Martial Becquart, creators and managers of the company, seamstress and painter …. not as many as they would like.
Romain, passionate cabinetmaker. He was awarded the national gold medal "best apprentice in France" in head office joinery in 2009, and the departmental bronze medal in the competition "one of the best apprentices in France" in cabinetmaking in 2006. Romain is also passionate about gardening, is an avid football player and plays competitive tennis.
Tatiana, an enthusiastic sales representative. Her experience in international trade and her bilingualism allow us to open our export department. Tatiana, a young mother of two children, practices classical and modern jazz dance and running. Via Instagram, Tatiana exchanges in an international network "how to live her life as a woman in 2020", manage her career, her children … without forgetting herself …
Chloé, attentive, prepares in alternation her BTS "Attachée de direction". Chloé loves nature and loves animals, in particular Ohana her dog. Sporty, she practices in group classes, kickboxing, step, kangoo and trampoline. Curious, Chloé likes to discover activities such as sewing, scrapbooking and baking.
Paul, joins our team in July 2021. Holder of a carpenter's CAP since last year, Paul obtained his cabinetmaker's CAP this year. Poise, meticulous and attentive, Paul also enjoys practicing woodcarving. Close to nature, he enjoys hiking and canoeing.
Our company specialises in the design and production of workshop furniture, furniture for the trades, designed to accompany you in the practice of all your passions.
A brief history of Auboi cabinet making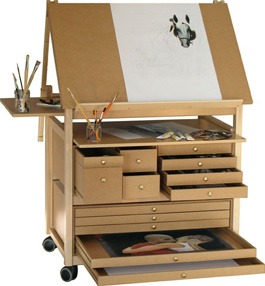 Since 2005, Studio Units
Since his childhood, Martial has loved to paint and draw and try out different techniques.
Having little time to devote to his passion, he imagines a piece of furniture that allows him to gather all his equipment within reach.
In 2004, he creates a "workshop furniture" which regroups workspaces and drawers to store all his painting equipment. Seeing this concept, his friends painters encourage him to propose the furniture to a wider public.
A first advertisement in Artiste magazine confirms the desire for this piece of furniture.
The workshop furniture is made in Normandy in small series; each arrangement is personalised according to its recipient.
At our trade fairs, the multiple storage needs for creative activities are often mentioned. Today, the Meuble Atelier d'Art is a workshop furniture concept adapted to the graphic arts, yarn arts, creative hobbies but also to any activity or passion requiring well-structured storage.
Before the adventure of workshop furniture
From Martial Becquart to the Auboi companyAuboi was founded in 1995 by Martial Becquart. Since buying his first woodworking handset as a teenager, Martial Becquart could not get the idea out of his head that woodworking was his life's choice. Very early on, he made a number of boxes, chests, chests of drawers with reclaimed wood, but nevertheless pursued studies and a career in industry.
In 1995 he decided to return to his passion and opened his Auboi cabinet making shop.
1995, Auboi cabinet making in Maulévrier Sainte Gertrude in Normandy.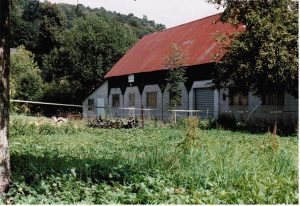 Initially, Martial Becquart responds to various requests and creates libraries, beds, chests, kitchens, bathrooms, dressing rooms, stairs, portals and other shop fittings …..
At the same time, he develops a very special concept of furniture that allows him to stand out and offer different types of furniture, "the Other Furniture", those that do not yet exist, those that we have dreamed of.
What he likes is to analyse people's needs, to study and design ergonomic, functional and of course aesthetic furniture. He is committed to the evolution of old techniques to adapt them to our times. Martial Becquart is a forerunner. Very early on, when computers had not yet entered our homes, he proposed furniture designed to integrate computer, central unit, …. screen into sober, refined furniture. Little by little, Martial Becquart developed his furniture line by combining two wood species, oak and ash.
Computer furniture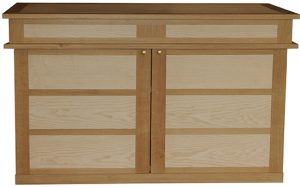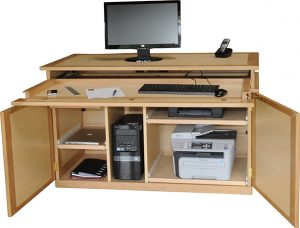 The line is sober and elegant.
Shops entrust us with their fittings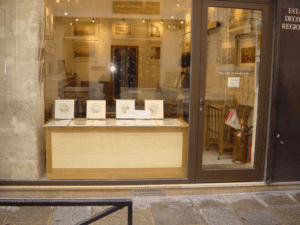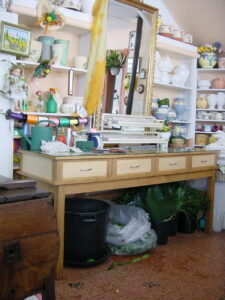 The workshop of Maulévrier Sainte Gertrude is too small to honour these requests. In 2000, the cabinetmaker moves to a workshop in Yvetot.
In 2004, the adventure of workshop furniture begins. The furniture is produced in small series, again, there is a problem of space and the need for an assembly workshop arises.
For 15 years, the cabinetmaker adapts to this operation in two workshops.
---
Nowadays…
In 2018, the construction of a workshop bringing together the two begins, on a craft zone, near Yvetot, the Caux Multipôles zone, 160 rue de la Chapelle in Auzebosc, still in Normandy.
In order to offer robust and quality furniture, the Auboi company has remained faithful to the tradition of French cabinet making.
Auboi cabinet making is renowned for its ingenious, ergonomic and aesthetic furniture.
Our job: meeting your creative needs
Our strength: a competent and responsive team
Our priority: a quality service
It will be our pleasure to show you the furniture we make as you visit our site.
Anne-marie Becquart