From Martial Becquart to the Auboi Company!!
Auboi was created in 1995 by Martial Becquart. Since buying his first multi-function woodworking machine as a teenager, Martial Becquart has not been able to get the idea out of his head that working with wood was his chosen lifestyle. Very early on he made a number of boxes, chests, chests of drawers with recycled wood, but still continued with his studies and a career in industry.
In 1995, he decided to go back to his first passion and opened his cabinet-making company, Auboi.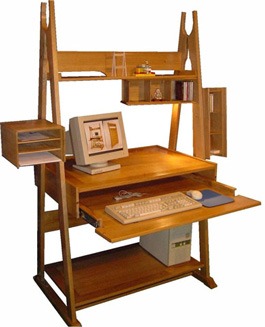 Since 1995, he has been developing an alternative furniture design concept, which enables him to set himself apart from other furniture makers and offer a different kind of furniture, "Furniture with a Difference", furniture which does not yet exist, but which we have dreamt about.
What he likes to do is analyse people's needs, then study and design ergonomic, functional and, of course, aesthetic furniture. He is very attached to the development of traditional techniques and adapting them to our times. Martial Becquart is ahead of his time. Very early on, when information technology had not yet reached our homes, he offered furniture which was intended to incorporate computers, CPUs, screens, etc. into restrained and pure furniture.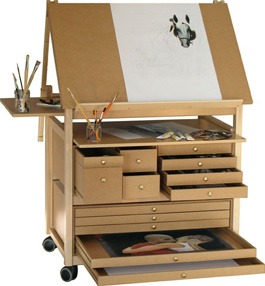 In 2005, Martial Becquart made a "studio unit" for his own personal use, which combined work surfaces and modules for storing his painting equipment; indeed, he loves painting and drawing in his free time. As he only had a small amount of time to devote to his passion, he wanted to create a space that allowed him to bring all his equipment together, within reach. When artist friends saw his studio unit, they encouraged him to offer it to a wider public. A first advertisement posted in a specialist magazine confirmed there was a need for this type of furniture. It was important to give it a name: the Artist's Studio Unit.
---
Nowadays…
When we go to trade fairs, people often bring up the wide range of storage needs with regard to creative activities. The Artist's Studio Unit has now developed into a concept of a Studio Unit suited to the graphic arts, needlecraft and to creative leisure activities, but also to any activity or passion that requires well-organised storage.
The materials that Martial Becquart chooses to work with for his studio units are MDF, for its flatness and the dimensional stability of the large panels, and solid beech for its elegance and sturdiness.
His high demands in terms of quality and finish place his work firmly in the tradition of artistic crafts.
The studi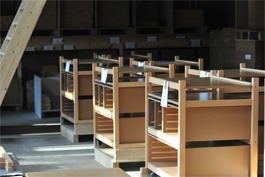 o units are made in Normandy in small series production; each configuration is customised according to its recipient's needs.
The company team has now expanded with Romain, our cabinetmaker.

Our job: meeting your creative needs
Our strength: a competent and responsive team
Our priority: a quality service
It will be our pleasure to show you the furniture we make as you visit our site.
Anne-marie Becquart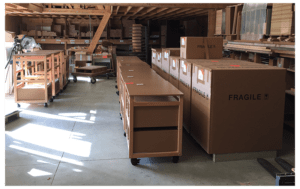 Back to previous page