Fly tying for fishing requires a lot of equipment and materials.
It's a world we discovered when Patrice asked us for an arrangement to combine his home office with a piece of furniture for tying fishing flies and storing gear.
The home office side
The Home-office side includes a storage column for office automation, including 5 drawers. The two drawer modules were chosen from the twelve modules offered. Interchangeable and modular, the modules are made up of two to eight drawers.
The top of the cabinet is wide enough to accommodate the two screens, but also the vise to tie fishing flies.
This is stored on the side of the tray when not in use.
We didn't want to waste space. Thus, the corner under the cabinet has been fitted with two shelves. They accommodate additional equipment less often used.
The "Fly-tying" passion side
We have arranged the return of the cupboard with many drawers to store the items needed for tying the flies.
As with any activity, the ability to organize storage and have the equipment close at hand saves time.
We use solid beech for the structure and medium for the tops and drawer modules, which guarantees the furniture, quality and durability.
Product description
By thinking about the layout proposal to optimize storage, we discover a whole range of equipment and a very specific vocabulary.
Thus, by choosing the drawer modules, Patrice was able to arrange his equipment in separate drawers: scissors, scalpels, spool holders, dubbing tools, hackle pliers, assembly pliers, whip-finish and all other "Fly tying" tools.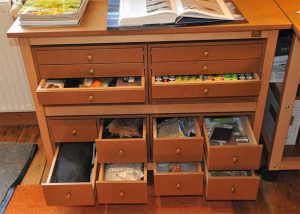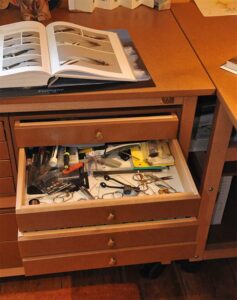 In order for the fly to be as close as possible to the insect (in general) it imitates, it requires a lot of materials. There will be as many colors of threads, in different silks, nylon, and other materials as feathers, hair, furs, dubbings.
There are also different types of ballast, brass, lead, tungsten ...., hooks .... which will be stored in the drawers.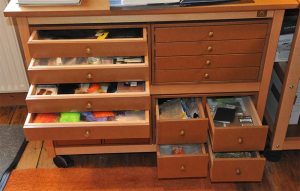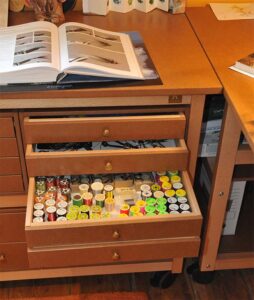 These materials are assembled using an assembly vice. The slightly curved top allows you to get as close as possible to the mounting vise. Complementary equipment, such as the large magnifying glass, is stored under the corner of the cabinet.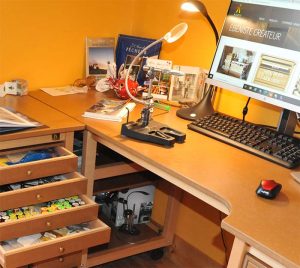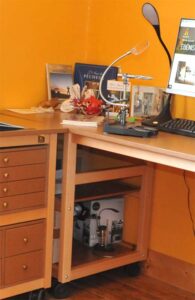 Tying fishing flies requires creativity, patience and precision, and great dexterity.
When we met Patrice and he introduced us to this activity, we were surprised to see the finesse of the achievements. Flies are beautiful objects, some of which look like jewelry!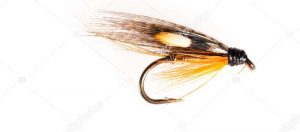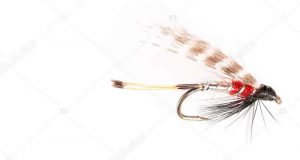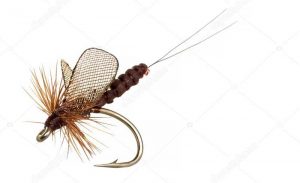 Fishermen say that "making flies is a bit like fishing".
What is sure is that making flies is an art!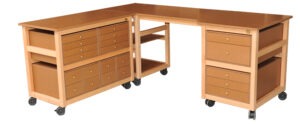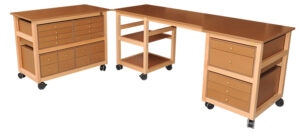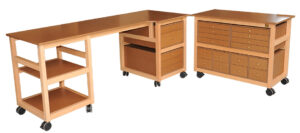 Characteristics
Materials
Furniture's structure and drawers' belt in solid beech. Worktop shelves, modules of drawers and drawers' fronts in MDF
Finish
Acrylic varnish very resistant and insensitive to water.