The Chest of Drawers
The Chest of Drawers comprises a wide range of drawers modules, each including between 2 and 8 drawers. They are reversible and modular, with 13 modules to choose from.
Each module offers drawers of different sizes and depths, which means you can adapt the unit to a particular use.
The Chest of drawers is available in three sizes: two, three and four levels.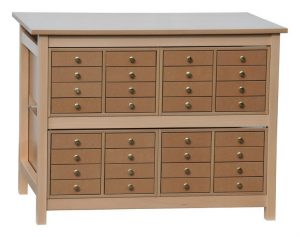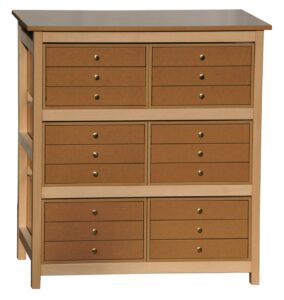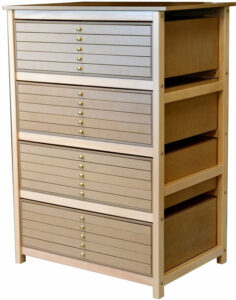 Its sober and elegant design allows to integrate the Chest of Drawers in different styles of interiors, in museums, galleries, bookstores, shops, at photographers.
We use solid beech for the structure, and medium for the trays and drawer modules, which ensures the furniture, quality and durability.
Product description
Configured with drawer modules n°3, the Chest of Drawers is similar to plan chest or architect drawers. It can indeed be arranged with 10, 15 or 20 drawers of internal formats of 60 x 80 cm (Traditional French format called "Soleil", bigger than the "Raisin" (50 x 65 cm) or "Jesus" (56 x 76) formats) and therefore accommodate a considerable number of sheets and papers.
This configuration also allows the storage, in a rational way, of old engravings, lithographs, photos.
In addition to the optimized storage of papers, each activity of manual work and creative leisure can find with the Chest of Drawers the appropriate organization. Arranged with many small drawers, the Chest of drawers will be similar to the haberdashery; we find the crazy charm of craft furniture.
Collectors will also find this furniture solution for storing various objects from their collections.
Indeed, the multiplicity of its configurations (see other layouts) is ideal for storing small collectibles : thimbles, beans or charms, postcards, minerals, bookmarks, writing feathers, netsuke, perfume samples, champagne corks tops, cigar rings, plates of champagne corks, coins, mini bottles, spoons, egg cups, ashtrays, miniature cars, lighters, ...
The Chest of Drawers can be arranged, such as adding a tilting top plate to transform it into a lectern presentation, have its depth decreased, be positioned on a tray with casters ... (see tab "option").
On request, some drawers modules can also be set up to receive collections of insects: butterflies, beetles ; entomologists, lepidopterists, do not hesitate to contact us!
Characteristics
Dimensions (cm)
W 101 x D 67 x H 76 / 101 / 145
Materials
Furniture's structure and drawers belt in solid beech. Worktop shelves, modules of drawers and drawers fronts in MDF.
Finish
Acrylic varnish very resistant and insensitive to water.
See other products "Collectionneurs / Graphics arts / Storage units "