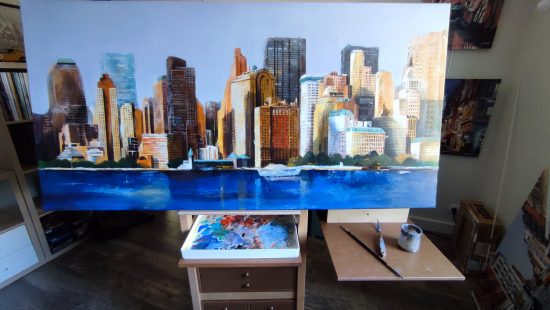 Dominique
Erquy (22) France -
07 / 2022
A few months ago I bothered you 😉 before deciding to buy a workshop easel.
If at first I was not convinced that the piece of furniture could be suitable for painting on large frames, I then hesitated for a long time between an easel and a studio piece of furniture.
I finally opted for the easel (question of size for my room), and after several sessions, I must say that I am conquered.
Admittedly, it's a different way of working, but I got used to it very quickly, and I find the ergonomics of the "workstation" (if you can call it that) most optimal.
The addition of the auxiliary shelf is a real plus, and the lower shelf is exactly the size of my acrylic palette.
I am attaching some photos on which I have a 140×70 canvas, and which I am finishing on the Auboi easel without any problem.
I also set up a drawer with places for my tubes, and the fact of viewing the testimonials on your site encourages me to try my hand at watercolor, which I will soon do. Once again, thank you for your patience, your advice and your kindness, and I remain at your disposal if necessary.