Easel with Drawers
The Easel with Drawers comprises 3 worktop shelves and a wide range of modular drawers.
- The upper shelf can tilt to whatever angle you want and is height-adjustable, which allows you to work comfortably both sitting and standing. This shelf then becomes an easel, an escritoire.
- The lower shelf, when pulled forward, enables you to do your activity sitting down.
- The middle shelf slides sideways, providing a surface for putting down equipment that is handy for both right-handed and left-handed people.
The storage units comprise three modules, with 12 to choose from (see module information sheet).
The casters, with twin rollers and a rubber binding, make the Easel with Drawers very easy to handle.
We use solid beech for the structure, and medium for the trays and drawer modules, which ensures the furniture, quality and durability.
Product description
You like to paint, the easel with drawers is the indispensable tool for your passion.
The drawers easel, more compact than the art studio furniture, is the perfect choice for any artist with limited space.
With the many inclinations of the easel, the different techniques: oil, pastel, drawing, charcoal..., watercolor, ink, acrylic ("liquid techniques" video) will find the comfort of the practice.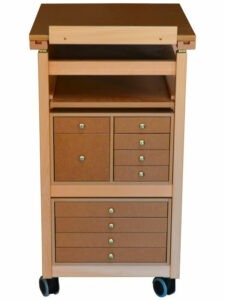 Each strorage units consists of drawers of different sizes and depths. You will organize your furniture to have at hand brushes, pastels, paint tubes, knives, brushes, papers, sheets ...
Characteristics
Dimensions (cm)
W 56,5 x D 67 x H 95 or 101
Materials
Furniture's structure and drawers' belt in solid beech. Worktop shelves, modules of drawers and drawers' fronts in MDF.
Finish
Acrylic varnish very resistant and insensitive to water.
See other products "Graphics arts / Studio Units "