The auxiliary shelf is adapted to art studio furniture and easels with drawers. It is placed on the side table, on the right or on the left. It can be placed in the high or low position.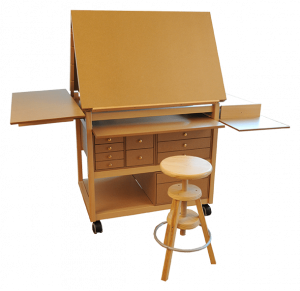 Initially requested by watercolourists, the auxiliary shelf turns out to be an option that provides working comfort when working with the tilted top plate. It also allows you to enlarge the workspace. If you use computers for your practice, the tablet can accommodate your laptop.
The auxiliary shelf is also positioned on the computer desk and on the small desk.
Solid beech fronts
Choosing solid beech fronts means you want to give your furniture a different look.
Each piece of furniture will be different depending on the tree. The color of beech wood varies depending on the nature of the soil where it grows. The color range can go from very light, almost white, to pinkish brown, to a honey color. Whatever the shade, the color of beech wood remains clear. It harmonizes with all styles and brings a note of warmth to its environment.
Like many solid woods, beech facades often have knots and grain. Click here to see more presentations.

Drawing board holder
It is positioned at the back of the art studio furniture.
The canvas support
It is positioned on the side of the art studio cabinet and the easel with drawers, on the right or on the left.
The half-double tray
It offers a working space of 100 x 100 cm.
White paint finish
We offer a white paint finish for some furniture.
Do not hesitate to contact us for more information.
Specs
Materials
Solid beech and MDF
Finish
Acrylic varnish very resistant and insensitive to water.