Sewing
Needles and pins, finge guards, threads, buttons, seam ripper, sewing machine, hopps and frames, scissors and tape measure, etc., the sewing box is filled with a large number of small tools.
The ideal is to have everything on hand, without wasting time looking in boxes, cartons, baskets, cupboards : our
Sewing Cabinet
is a solution.
Unfold the worktable to benefit from a cutting table of 130 x 100 cm, take out the drawer, then put away, access at the same time to his sewing machine or his serger, pull the tablet and discover the embroidery machine, that's what we offer with our workshop furniture that combines many storage drawers of different sizes, worktables, to get an optimized and functionnal space.
Sewing brings us into a world of creation where you can make your own clothes, create your accessories, decorate your home.
Ingenious since time immemorial, women have invented, with patchwork, the art of making warm blankets from almost anything.Indeed, the falls of fabrics and old clothes were cut, assembled to compose a motive. The result was then padded and doubled then quilted and embroidered, beautiful (and often only) way to express their creative talent in an austere world.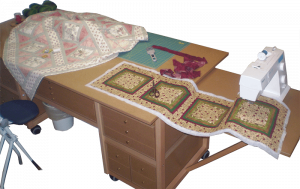 Mastered for a long time, embroidery is a timeless art. Each region of the world has its own technique and style of ornamentation. In perpetual search of inspiration, the spirit of innovation and ingenuity, the imagination is a richness shared by the embroiderers.